Workshop: Addressing White Supremacy in Homelessness
September 25, 2020, 10:40 - 12.00 PM
A transformative talk about realizing the movement of Black Lives Matter within a shelter. Focusing on how Hogan's Alley Society has challenged anti-black racism, uncovered the history of a racialized community in Vancouver and innovated to deliver culturally safe programming at Nora Hendrix Place, a 52-unit temporary modular housing development on the Hogan's Alley Block. Also offering insights into the need to understand and validate the lived experiences of racialized communities in overcoming barriers when accessing housing supports and homelessness services. 
Instructor: June Francis (Hogan's Alley Society)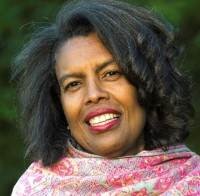 Dr. June Francis is an Associate Professor of Marketing and is the Co-Founder of The Co-Laboratorio project that works to strengthen cross-sector collaboration, learning and innovation — for more inclusive resilient solutions in governance, policies and industry practice.   She is also Director of the Institute for Diaspora Research and Engagement at SFU. She is an advocate for equity, diversity and inclusion for racialized groups as well as the advancement of non-traditional intellectual property law related to community well-being and cultural and human rights through her research, consulting, the media and as a volunteer.
If you have any questions about the conference, please contact Zharkyn Baiazova at